UMM @ Canaan meets 1st Sunday every Month @ 7:30am , with Breakfast prepared by the Men. Come Join Us.
UMM Chairperson @ Canaan UMM denton nc : Don Esposito 859-4349
2nd Annual Fishing Tournament *
Mark your calendars for May 23, 2004-
Read On...
2nd Annual Fishing Tournament 2004 * 42 Photos of Event -

Click Here
First Annual Fishing Tournament 2003 * Winners & Photos of Event
Click Here
April 4th, 2004
The monthly breakfast/meeting held at Ricks Restaurant was attended by Ronnie, William. Billy, Donnie, Leroy, Max and Stewart. Although we missed doing our own cooking, we enjoyed the food and the camaraderie. We look forward to having more members present at the May meeting on May 2.
Summary of old business:
We will move the donated refrigerator to the kitchen after the April 24 Clean-Up/Tidy-Up church event.
We will make plans to pick up the donated outside sign that Greg Nelson located for us.
Chicken Barbecue--a great success story! Four-hundred half chickens were cooked by the culinary/outdoor cooking specialist Donnie Apple and his team of devoted assistants. The proceeds of this event were split evenly between the Men's, Children's and Ladies Ministries. Thanks for all of your efforts to make this event one of the most successful we have had. We will definitely do this again next year.
Spring Grounds Cleaning: Thanks to the dedicated team work of Ronnie, Max and Steve for transforming our grounds into a well manicured yard. The shrubs and tree trimming look great. Thanks again for everyone's assistance.
New Church Sign for Hwy. 109: Although we liked the design the overall cost was too expensive for our budget.. We are looking at alternate sources and will follow up at the next meeting.
Treasury report was provided by Max.
New Business:
Kitchen/Social Hall Clean-up is scheduled for Saturday, April 24. We plan on painting and reallocating space for new generation cabinets. We will also identify the future needs, i.e.. new tile for the kitchen area. Clean up starts at 8am.
May 2: Men's Monthly Breakfast Meeting
May 9: "Mother's Day" Church Breakfast.. We will also invite the members of First to join us.
May 15th: Denton Homespun Faire event. 8 am till 5 pm. We will cook tenderloin at the church and plan on selling biscuits and drinks as we did last year. We need another canopy and will ask Steve if he can get one for us.
May : Second annual Denton Fishing Tournament. We will check with Danny to ensure that he will be available as well as Joe Foley who is the official check-in master.
June-"Need Help at OutReach Booth at Tour de Kale June 19th 2004"
August 21: Church Rafting/Spend the night event. More details to come.
Submitted by: Don Esposito
Feburary 3,2004 - UMM Report
As promised, the following is a brief summary of our February monthly meeting.
Billy Ward opened the meeting with a prayer and asked us to pray for the family of Stacie Pearce. Stewart Grubb shared his spiritual note that he wrote in memory of Stacie Pearce and shared with us some of her fine qualities.
Max Bisher summarized the results of the
Chicken stew event
that we had in January. Thanks to everyone in the church for their help and support. We look forward to another stew. Part of the revenue received from this event will be given to a church member for the next three months. ($100.00 per month for a total of $300.00)
Click Here Photos
Billy Ward is revising the telephone tree program to ensure that all men are contacted and made aware of meetings and other planned events. Thanks Billy.
On Sunday, February 15th we will: Provide lunch for the Sunday school teachers from First and Canaan. Initiate a work group to assembly the new lights for the sanctuary that Greg Nelson will install on Monday, February 16th. We will also install a donated fan, pick up another outdoor sign, and a donated refrigerator.
Initial plans were approved for a March 27th Chicken Barbeque that Donnie Apple will supervise. Tickets will be sold for this event. Cost of 1/2 chicken with chips and potato salad is $6.00 per person. All church members will be asked to sell tickets and assist with this event.
We are looking for another great year for our church and our ministry. Thanks for everything you do to support our church and each other.
PS: please advise if I made any mistakes or left out some informatiion.
UMM @ Canaan meets 1st Sunday every Month @ 7:30am
Come and Visit Us at Canaan UMC, Denton, NC
Worship Service: 9:30 am Sunday
Bible Study Wed. Night: 7:00 pm to 8:30pm
Canaan UMC calendar: Visit Calendar and Bookmark it !
Click Here
Click On Photo for HOMEPAGE @ Canaan UMC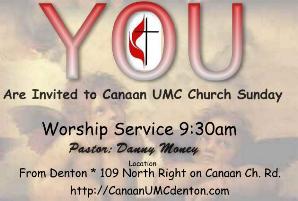 About Canaan UMC and Digital Tracts for You *
Click Here
Music Ministry Page has been Added to Canaan UMC denton,nc *
Click Here
Canaan UMC Photo Link Site * Denton, NC *
Click Here

This site created by Gally * Vist some of our other Sites below

<!-onMouseover Link CSS Script-© Dynamic Drive (www.dynamicdrive.com). For full source code, installation instructions, 100's more DHTML scripts, and Terms Of Use, visit dynamicdrive.com-->